Progress in machine tool technology over the last 100 yr has led to the continual redefinition of precision as shown in Figure 35-F developed by Taniguchi The trend here is very clear
Progress in machine tool technology over the last 100 yr has led to the continual redefinition of precision as shown in Figure 35-F, developed by Taniguchi. The trend here is very clear—that precision in machining continues to improve over time and approaches some limit. Discuss this figure, addressing such issues as
a. What is the limit in machining precision?
b. The vertical axis of the plot uses the term accuracy, while the curves use the term precision. Are these the same? Explain.
c. What is 

? Give some examples.
d. What is the current industrial level of precision for machine tools?
e. What is the correct title for the vertical axis on this figure?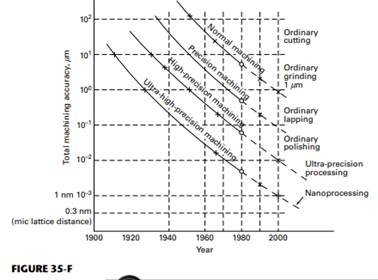 May 19 2020 View more View Less
Answer (Solved)
Subscribe To Get Solution