Process Planning for the MfE At Lulu's War Eagle company Figure CS-26A shows a part design for a small flange to be made out of 1020 steel Prepare a sequence of operations or process
Process Planning for the MfE
At Lulu's War Eagle company, Figure CS-26A shows a part design for a small flange to be made out of 1020 steel. Prepare a sequence of operations or process plan to make this part. Note that you need to machine the top, bottom, and all the holes. Specify the machines and the tools you would use, assuming you select bar stock as your raw material. The term ''Co bore'' in the drawing means counter bore. See Chapter 2 for an example of a process plan. Assume the lot size here is 1200 part/yr made in lots of 120 every month. Now assume that the designer provides you a design like Figure CS-26B and calls for the flange to be made from cast iron. The casting will probably have a large hole in the center cored during the casting process. What casting process will you use? Prepare another process plan for the cast part. Will the sequence of operations be the same? What about the cost per unit? Which will be lower?
1. The part drawings failed to provide a critical specification in the design. What is it?
2. The drawing failed to show the final geometry (in the top view) correctly. Redraw the part to show these corrections.
3. As the process engineer, how would you advise the design engineer he screwed up—twice?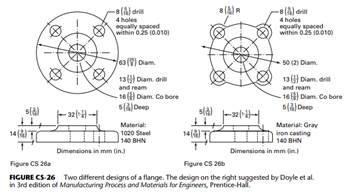 May 19 2020 View more View Less
Answer (Solved)
Subscribe To Get Solution