Journalizing transactions posting to T accounts and preparing a trial balance Consider the following transactional data for the first month of operations for Crystal Clear Cleaning Requirements
Journalizing transactions, posting to T-accounts, and preparing a trial balance Consider the following transactional data for the first month of operations for Crystal Clear Cleaning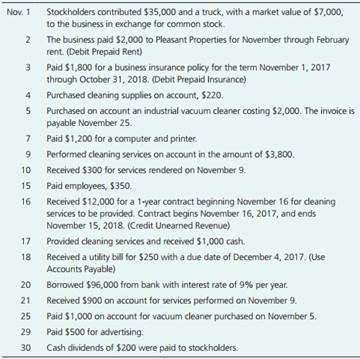 Requirements
1. Journalize the transactions, using the following accounts: Cash; Accounts Receivable; Cleaning Supplies; Prepaid Rent; Prepaid Insurance; Equipment; Truck; Accounts Payable; Unearned Revenue; Notes Payable; Common Stock; Dividends; Service Revenue; Salaries Expense; Advertising Expense; and Utilities Expense. Explanations are not required.
2. Open a T-account for each account.
3. Post the journal entries to the T-accounts, and calculate account balances. Formal posting references are not required.
4. Prepare a trial balance as of November 30, 2017.
Apr 21 2020 View more View Less
Answer (Solved)
Subscribe To Get Solution