FINANCING SUE'S HONDA ACCORD After shopping aroundSue Wallace decided on the car of her choice a used Honda Accord The dealer quoted her a total price of $10000 Sue decided to use $2000 of her
FINANCING SUE'S HONDA ACCORD
After shopping around, Sue Wallace decided on the car of her choice, a used Honda Accord. The dealer quoted her a total price of $10,000. Sue decided to use $2,000 of her savings as a down payment and borrow $8,000. The salesperson wrote this information on a sales contract that Sue took with her when she set out to find financing. When Sue applied for a loan, she discussed loan terms with the bank lending officer. The officer told her that the bank's policy was to lend only 80 percent of the total price of a used car. Sue showed the officer her copy of the sales contract, indicating that she had agreed to make a $2,000, or 20 percent, down payment on the $10,000 car, so this requirement caused her no problem. Although the bank was willing to make 48-month loans at an annual percentage rate of 9 percent on used cars, Sue chose a 36-month repayment schedule. She believed she could afford the higher payments, and she knew she would not have to pay as much interest if she paid off the loan at a faster rate. The bank lending officer provided Sue with a copy of the Truth-in-Lending Disclosure Statement shown here.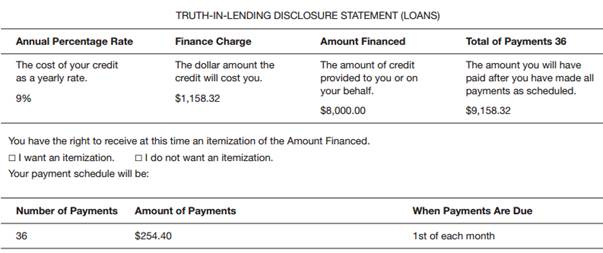 Sue decided to compare the APR she had been offered with the APR offered by another bank, but the 11 percent APR of the second bank (bank B) was more expensive than the 9 percent APR of the first bank (bank A). Here is her comparison of the two loans: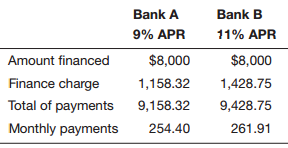 The 2 percent difference in the APRs of the two banks meant Sue would have to pay $8 extra every month if she got her loan from the second bank. Of course, she got the loan from the first bank.
Questions
1. What is perhaps the most important item shown on the disclosure statement? Why?
2. What is included in the finance charge?
3. What amount will Sue receive from the bank?
4. Should Sue borrow from bank A or bank B? Why?