Crimson Tide Music Academy offers lessons in playing a wide range of musical instruments. The unadjusted trial balance as of December 31, 2012, appears below. December 31 is the company's fiscal year-end.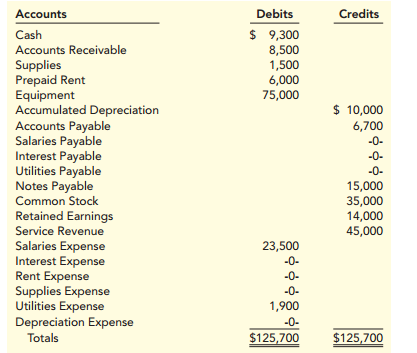 Information necessary to prepare the year-end adjusting entries appears below.
a. Depreciation of equipment for the year is $5,000.
b. Accrued salaries at year-end should be $1,600.
c. Crimson Tide borrows $15,000 on September 1, 2012. The principal is due to be repaid in four years. Interest is payable each August 31 at an annual rate of 10%.
d. Unused supplies at year-end total $600. Crimson Tide debits Supplies at the time supplies are purchased.
e. Crimson Tide opens a second studio by purchasing one year of rent in advance on April 1, 2012, for $6,000 ($500 per month) debiting Prepaid Rent.
f. Unpaid utilities for December total $100.
Required:
Record the necessary adjusting entries on December 31, 2012.
View less »